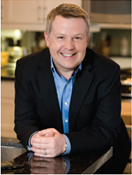 "Many designers might see your space as an empty canvas to be filled, but we look closer to discover the individuals who call it home."
– Rodney Deeprose, Interior Designer
We see every project we undertake as a home, first and foremost. A truly livable home is not simply decorated, but designed with purpose, planning and intention behind every detail. We never tire of the adage, "form follows function" so we are committed to a design approach that seamlessly combines beauty with practicality.
By engaging Rodney Deeprose Inc. to design your interior space, you are entrusting us with one of your most personal and valued assets. We honour that trust by focusing our energies on you, the homeowner. We'll make the necessary effort to educate you and guide you through the design process. We'll devote the requisite time so that you don't have to, sourcing materials and elements that you may not be able to find on your own. Beneath our comprehensive commitment of time and resources lies the very simple goal of making you happy in your home.
Rodney Deeprose is equipped with a diversely rich background in the home interior industry. Born, raised and educated in BC, Rodney began his career in 1990 before moving to Ontario in 1997. During that time, he developed a well-balanced background in the industry by working for custom drapery, upholstery, furniture and mattress manufacturers, cabinet and drapery workrooms as well as fine furniture showrooms. Rodney has embraced a host of unique design and logistical challenges over his career including several homes in remote foreign locations and even a heritage sail boat. Rodney has enjoyed long-lasting and rewarding relationships with his clients and looks forward to meeting you.